A Waterfall of Deliciousness
Our Goal At Corky's is to Provide our Community, Family and Friends some of the most delicious food their taste buds have ever met, matched with equally 'out of this world' Customer Service & Atmosphere! When Corky's was just a dream a long time ago we knew one thing above all else, making a priority in creating a place of Comfort & Quality – and that's exactly what we continue to strive for with each Guest that walks through our Doors! We Truly Love what We Do Here at Corky's & Look Forward to Showing the Cozy Town of Brevard, NC and beyond what we are all about!
Order Online
Delivery
Welcome!
From the Mountains of West Virginia to the Skyscrapers of Chicago, we bring a collection of favorites under one roof. From 100% Vienna Beef Hot Dogs to Mouth Watering Hamburgers, Hand-Spun Milkshakes Made-to-Order, Crisp & Cool Salads, and Fall Off the Bone Ribs… Whatever you're Craving, we've got you Covered! Check out our Menu to see all the Delectable Options this 'Small Town' Locally Owned and Operated Restaurant have to offer!
Reviews
We believe that the true measure of any product is what the sum of our guests have to say about it. Don't take our word for it; see what our many happy guests have to say, and take it from them!
I can't tell if the food or the friendly staff is the best thing about this place.The menu is huge and varies but so far everything I have tried on it in the last year has been phenomenal. There's nothing they serve that seems to not have a high standard.
Stephen M.
00:47 08 Sep 23
It is one of those places that only the local people know about, if you like the Mom & Pops restaurants. I found the place for you. If you are in the area stop by and check them out.
Anthony R.
15:43 06 Sep 23
You gotta have the brownie alamode
The food was amazing! Skip breakfast! If you leave bindery it's your own fault!
Amazing food served up quick with a great atmosphere!
Hot dogs were good and the buns fresh. Lots of fun things on the wall.
Delicious. Good atmosphere. Outside they have a disc golf toss set up and a oversized connect four game. The Macattack and the patty melt were really good.
Great food, friendly service. Amazing milk shakes!
Came in town to fish and got a Chicago dog with a side of mac and cheese, amazing food! Will be back soon 🙂
Friendly staff great food. I love Corky'.
Michael C.
19:43 23 Aug 23
Wonderful food. Great service!! Our second time coming. We will be back.
I've lived all over America. First time eating here, def coming back. I was craving a wet & spicy Italian beef and they seem like the only place in Brevard with one. It was sooooo good, def coming back.I showed up right when they opened, took under 5 min to get my food, I was very impressed 👍 It was ~$15 with tax & tip with a side of sport peppers, I didn't need any other side. The fried Brussels sprouts look good, too. And the mozzarella sticks. And they had an Italian beef with sausage. Yummmm 🤤
Great food, friendly people! The outdoor seating allows for family games and dog friendly. Highly recommended!
Little hole in the wall, almost drove by it but glad we found it after a day of hiking and a big appetite. Great burgers! My wife loved her Milk shake
It was exactly what I expected and exactly what I wanted.
Lillian H.
00:41 06 Aug 23
Delicious dogs and the employees working when we dined were amazingly nice. They all deserve raises! Highly recommend the sweet potato fries and cheese dawg!!
Michelle A.
00:36 03 Aug 23
The atmosphere is just plain fun. But I was excited to find the food to be very good also. There are lots of options for burgers and hot dogs but I just wanted a regular hamburger. When I said "no bun" the server asked if I wanted a lettuce wrap. Yes, please! It was awesome.
Awesome food with great service! Everything done right! Thank you kindly
Quaint little restaurant that serves more than just hotdogs. Burgers, a few salads, some BBQ style dishes, shakes...Staff were constantly clearing and cleaning tables.Reasonable prices too.If you are in the area, should add this to your stop if needing lunch/dinner, or a snack.
Matthew Christine C.
00:54 30 Jul 23
WOW! My Italian husband loved the Italian sausage and peppers so much, he ordered a 2nd one! The Mac N cheese was great to. Jessica, our server was so sweet and attentive. I would highly recommend CORKY DAWG HOUSE.
Corky's had great food, good service, and a really cool atmosphere!
Hands down one of the best places I have been in a long time. Super friendly people very accommodating. Very fun atmosphere and the food was really great!
Great food, Friendly staff and the best part is... They have great Chicago Dogs!!!
We stopped in after hiking and swimming all day… immediately loved the atmosphere -the staff AND their service was EXCELLENT!! That alone would warrant a return visit, but the food was also EXCELLENT. At the end of the day -yes: they're still hamburgers and hot dogs, but They do these cows and dogs up SO GOOD!!! Make sure to save room for milkshakes, too!!!With a family of 5 we ordered 5 burgers, a huge salad, 3 appetizers, 3 sides , drinks **and 2 milkshakes**About $100 for everything and we had plenty to take home.Aloha burger: 10/10Pretzel burger: 10/10BBQ burger: 7.5/10Fried Brussel sprouts: 11/10!!Biscoff cookie butter milkshake: 9/10 !!
I will be back.Great onion rings!Buffalo poboy was awesome.
Excellent chili burgers and fries.Next visit we will try their hot dogs.
Kirk Hepburn (Middle Aged White G.
17:19 09 Jul 23
Fun place, quirky decor, good food options, nice indoor and outdoor seating, overall very good place for a bite to eat. We had three types of dogs (Chicago, Carolina, and Kielbasa), the Corky Salad (basically a Cobb salad with French Fries!), and a twist milkshake which are hand spun. The dogs were good, I liked the actually meat (especially the all beef), while there was a lot on the dogs they weren't impossible to eat by hand, and the owner (Corky we are assumimg) came over to check on how everything was. Good place, we recommend if you like hotdogs ans milkshakes.
I accidentally left my wallet on one of the back tables at the restaurant without even realizing it until I drove home, which took about an hour. The next morning, I called the restaurant as soon as they opened, and the staff were incredibly kind. They informed me that they had found my wallet the previous night and had kept it safely locked in their safe. I was relieved to hear that nothing was missing from my wallet.Furthermore, the restaurant provided a great atmosphere for a gathering of friends. It was truly incredible!
Excellent service, delicious burger (grab the napkins), great varied selection, fantastic malt and tasty fries. *For those calorie counting or with dietary restrictions, might not be a good option.😉 Shakes are a bit pricey but they are house made and flavorful.
We are in Brevard for a wedding this weekend and saw Corky's as we came into town. We checked out the menu online and thought we would try it out. So glad we did! There were 6 of us and we all had something different. I had the grilled chicken sandwich and regular tots. My husband had the fish sandwich and Cajun tots. Our other family members had: the pimento burger, kielbasa dawg, the pretzel burger, the Corky's burger and Cajun fries. The food was delicious and everyone was pleased with their orders. The service was fast and we were eating in no time. We didn't have room for dessert, unfortunately. But since we are in town for the weekend, we'll make another stop for ice cream.😁 i would like to give a shout-out to the staff. Everyone was very friendly and the service was excellent!
Order Online
Have you made up your mind about which of our sensational food options you'd like to treat yourself to today? Would you like to place an order online? Simply head on over to our order page and tell us what you'd like!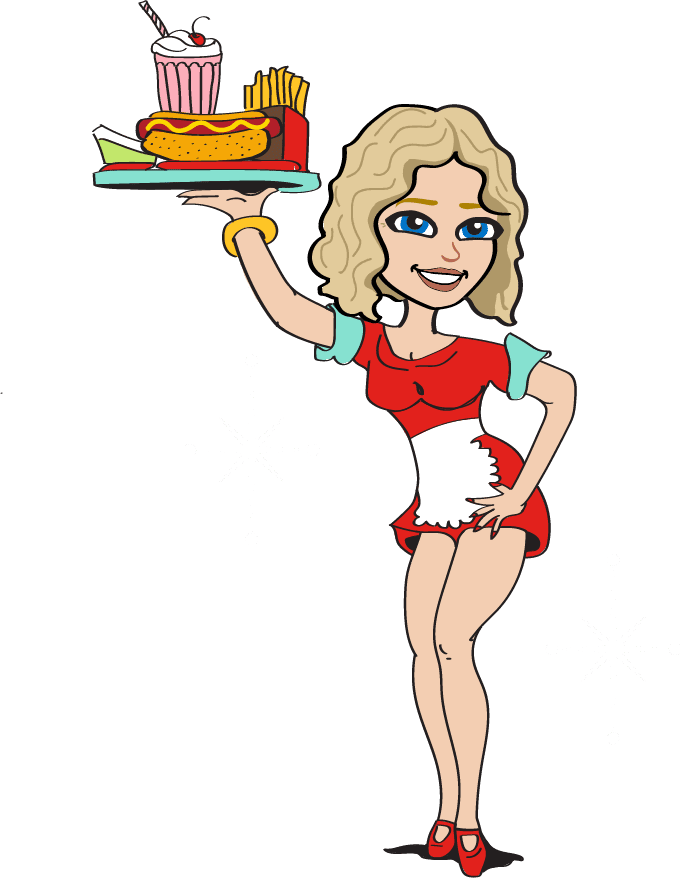 A Truly Local Feel
We are Proud to be a Locally Owned and Operated "Family" Business. Created from the ground up, a Husband & Wife's Dream of Ideas, goals, and ambition finally blossomed into fruition. Corky's is driven on true core principles that encompass that "Small Town Feel" each and every time you walk in our Doors. Our Passion lies within excellence in every possible aspect, from Quality ingredients & Comfortable Atmosphere to our Remarkable Team "Our Family" that makes the Vision Come to Life Each and Every Day! Our Goal in creating a "5 Star" Experience here at Corky's starts with the care & Compassion we put in each and every hand-crafted item we serve. We do things Right, Here in The Mountains! Come and See for yourself!
Join the Corky's Team!
We're looking for passionate, hardworking, customer-focused individuals to join our team. Just click the button below to download a job application.
Please Feel Free to Print out, and bring it in person for a potential On the spot interview
— OR —
Fill out an Online Application & submit today to start the hiring process.